Today is the fourth lockdown day of South Africa's Covid-19 response announced by President Cyril Ramaphosa in his televised address to the nation last week Tuesday. Nearly three-quarters of a million people around the world have been positively confirmed as Coronavirus cases and, sadly, nearly thirty-five thousand of them have lost their lives; primarily in Italy, Spain and China with the US having the highest number of confirmed cases worldwide.
The South African count of positive cases is now in excess of one thousand two hundred, with two people unfortunately succumbing to the disease. We hope that you and your family are safely sheltering in place and, along with the 40% of the planet that are under some form of restricted movement, that you are well provisioned for the time ahead. The actual full extent of the lockdown in terms of timelines remains uncertain. Bear in mind that Spain extended their lockdown from 15 to 30 days and that many other countries are considering something similar.
Government responses to Coronavirus have been, together with those of their respective Treasuries and Central Banks, appropriately dramatic. As examples of policy response: South Africa's Reserve Bank cut the repurchase rate by a full 1% on the 19th of March and announced their first Quantitative Easing program a week later, the European Central Bank launched the awkwardly titled E750 billion Pandemic Emergency Purchase Program on the same day as the SARB cut rates and the US has successfully wrestled their $2 trillion CARES Act (Coronavirus Aid, Relief and Economic Security Act) through the Senate and the House of Representatives.
Inevitably, and has been widely anticipated by the market since the S&P and Fitch downgrades in 2017, Moody's Investor Services downgraded South Africa to sub-investment grade (junk) late on Friday last week; thereby automatically excluding South Africa from the World Government Bond Index. The rand promptly, though only briefly, traded above 18 to the USD. For further analysis on this topic see this report.


ZARUSD, Daily, Last Year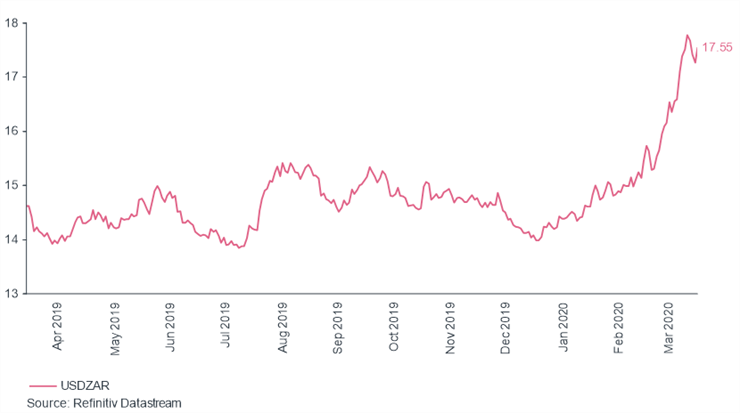 Less clear, are the second- and third-order effects of nationwide lockdowns. Initially, only two orders of effects were being considered by the market. First order: the obvious sell-off when Covid-19 moved out of Wuhan. Second order: a further recalibration by markets as the economic impact of Coronavirus found its way through the economic system for which the first high-frequency data points have begun to roll in. One of which was US unemployment claims last week which hit an all-time high of 3.28 million from around 1 million at the previous data point. A new order of effects is, however, now interposing itself between the original first and second order effects, that of lockdowns being meaningfully extended as there is a significant difference between a two- to three-week lockdown and one that lasts six or more weeks. The market appears to only have begun to price this risk in.

S&P 500, Daily, USD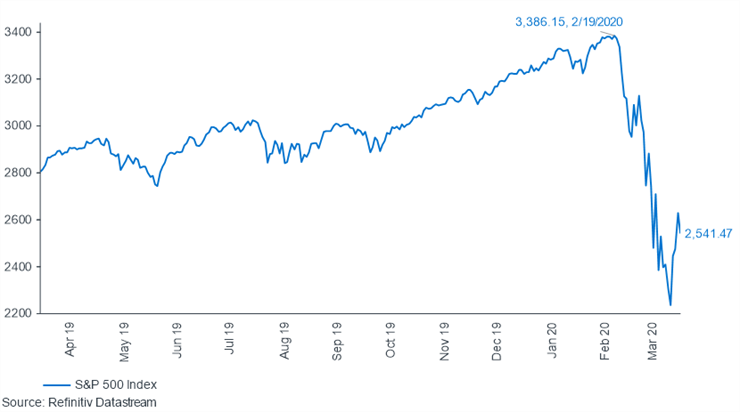 The remainder of this email contains a set of resources you may find helpful; which we encourage you to consult. To email me directly please click on my email address below and if you want more charts than presented above please click here.
Stay safe. Flatten the curve.
---


Market Data
| Asset Class | Last Week | Last Month | Last Year | Last 3 Years |
| --- | --- | --- | --- | --- |
| Local Cash | 0.13% | 0.53% | 7.22% | 7.32% |
| Local Bonds | 2.88% | -13.68% | -4.66% | 4.10% |
| Local Property | -7.03% | -41.06% | -49.56% | -24.30% |
| Local Equity | 6.79% | -18.99% | -20.81% | -2.93% |
| Global Property | 15.47% | -25.36% | -23.57% | -2.83% |
| Global Equity | 9.98% | -16.16% | -11.35% | 1.71% |
| USDZAR | 0.20% | 13.62% | 20.02% | 11.24% |

Helpful Resources

Please take the following into account:
Wherever possible, total return indices have been used. These include the effects of dividends, interest and coupon payments in addition to price movements. Please take data presented as, generally, inclusive of price and income effects.
Performance and other market data excludes the effect of income, capital gains and dividend withholding taxes as well as excluding advice, administration and asset management costs. Please take data presented as exclusive of tax and cost effects.
Data is based on the previous Friday's closing prices but as the situation is fluid the commentary may or may not extend beyond Friday's close.
Collective investment schemes and other similar products performance information is based on data provided by Morningstar, which is signed off the first week of each month. In general, we will refrain from covering this until sign-off is obtained.
NFB Asset Management publishes a monthly newsletter called The Rationalist. For as long as these weekly emails are being sent we have elected not to publish The Rationalist. Expect the monthly NFB AM schedule to resume once the lockdown is lifted.
Stay informed: Day 11 of 21 | Market Update