Welcome to the penultimate weekly edition of our lockdown-inspired market commentaries. We began this in the early part of 2020, suspended it later that year and resumed when President Cyril Rampahosa raised the country to Covid-19 alert level 3 in the week between Christmas and New Year last year. Given that the President as recently as Monday last week televised another of his Family Meetings with the Nation and given that South Africa's second coronavirus wave appears to be ebbing away; we thought it appropriate to bring the current weekly series of these newsletters to an end. We will publish one more next week and then will move to publishing every second week thereafter. Other publications from the NVest Group of companies continue, including Wood from the Trees from NVest Securities and Proficio from NFB Private Wealth Management. The Rationalist from NFB Asset Management has been replaced by this communication.

Yesterday news broke that the AstraZeneca vaccine forming the backbone of South Africa's initial vaccine response was demonstrably ineffective against the local 501Y.V2 coronavirus variant. Also dampening sentiment was news that it will take the world 7.4 years to reach population immunity, though clearly there are likely to be regional differences between, primarily, emerging and developing nations. There may even be variations within these broad market groups as, for example, the vaccine rollout differs markedly between Israel and Canada; the former a world-leader in vaccine doses per hundred citizens, the latter with a Prime Minister under some extreme pressure. Counter to this is that, naturally enough, the world will get better at vaccine procurement and distribution so that 7 year number will in all likelihood turn out to be too high.

Likely to further dampen sentiment though is that the 500,000th coronavirus-related death in the United States is likely to occur this week as is the 1,500,000th South African confirmed positive. A forthcoming third wave anticipated for June is also being digested by South African market participants.

And yet markets were up strongly last week, including South African listed property. The rand is trading under 15 to the dollar again and many markets around the world are at all-time highs. Some of the rand's strength is due to the attractiveness of South African bond yields with the South African 10-year nominal government bond yield at 8.51%; regular meaningful daily inflows into the bond market are occurring. Buoyancy in the rand is somewhat counterintuitive as yields on the US 10-year have increased recently from 0.8% to nearly 1.2%, as the US's third COVID-19 stimulus programme hasn't been finalised yet and as South Africa approaches its annual budget speech at the end of February. All three of these approximate causes could reasonably be expected to have reduced risk appetite; particularly for South African fixed income assets. And yet our local equity market is flirting with the 65,000 level once again and the yield on the 10-year is down 30 to 40 basis points in the last ten days. A basis point being 0.01%.

Arguably the key indicator for increasing risk appetite, albeit complicated by managed supply chains, is the oil price which is approaching 60 dollars a barrel for the first time since January last year. As a reminder, it went as low as 15 during the peak of the initial waves of the pandemic.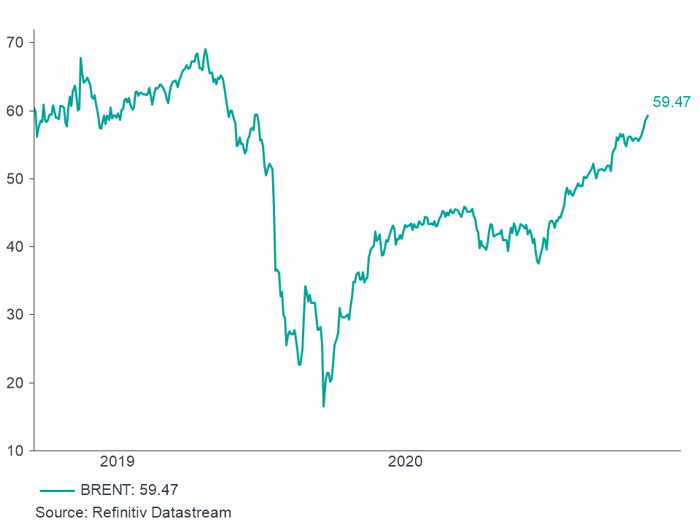 For those of you who are interested or who have missed the invitation sent out last week, NFB Private Wealth Management together with Ninety One is virtually hosting Jeremy Gardiner on Thu‍rsday the 18‍th of Feb‍ruary at 11‍:30‍am. The topic of his talk is "Rebuilding after the storm." Gardiner is an excellent, entertaining speaker and coming as it does a week or so ahead of the budget speech from Finance Minister Tito Mboweni, his talk is likely to be highly informative. Click here should you wish to secure an invitation. In the meantime, our weekly chart book can be found here. Stay safe, wear a mask, look after yourself and your loved ones.
---

Market Data
| | | | | |
| --- | --- | --- | --- | --- |
| Asset Class | Last Week | Last Month | Last Year | Last 3 Years |
| Local Cash | 0,07% | 0,31% | 5,06% | 6,51% |
| Local Bonds | 1,83% | 2,52% | 9,70% | 9,00% |
| Local Property | 4,83% | 4,69% | -30,85% | -14,70% |
| Local Equities | 2,91% | 5,58% | 15,08% | 7,30% |
| Global Property | 2,13% | 3,37% | -8,38% | 4,80% |
| Global Equity | 4,32% | 3,75% | 19,50% | 11,80% |
| USDZAR | -1,08% | -0,75% | 0,74% | 7,38% |


Helpful Resources

Please take the following into account:
Wherever possible, total return indices have been used. These include the effects of dividends, interest and coupon payments in addition to price movements. Please take data presented as, generally, inclusive of price and income effects.
Performance and other market data excludes the effect of income, capital gains and dividend withholding taxes as well as excluding advice, administration and asset management costs. Please take data presented as exclusive of tax and cost effects.
Data is based on the previous Friday's closing prices but as the situation is fluid the market commentary may or may not extend beyond Friday's close. Other data, links, estimates, etc referred to are correct as at the time of writing.
Collective investment schemes and other similar products performance information is based on data provided by Morningstar, which is signed off the first week of each month. In general, we will refrain from covering this until sign-off is obtained.
NFB Asset Management publishes a monthly newsletter called The Rationalist. For as long as these weekly emails are being sent we have elected not to publish The Rationalist. Expect the monthly NFB AM schedule to resume once the lockdown is lifted.
The previously used Refinitiv data code for Local Bonds (SAFRALL) has been discontinued, therefore a new code (ASAGVAL) has been used for calculations moving forward which is subject to revision in the future.