What is PMI?
The Purchasing Managers Index (PMI) is a valuable leading economic indicator used to identify market conditions based on monthly surveys completed by senior production managers. The value of PMI is that the data comes directly from key managers who understand the dynamics of a firm's activities. To put it simply, the information comes straight from the horse's mouth. Variables measured by the surveys include, but are not limited to, firms' output, new orders, price changes, employment, future output, delivery times, and future activity. The focus here is on the whole economy PMI to better understand overall global growth trends, but the analysis can be broken down into specific areas of construction, services, and manufacturing.
PMI data is straightforward to interpret as it is measured on a scale of zero to one hundred. A value greater than fifty indicates expansion whereas a figure below fifty indicates contraction. Looking at seasonally adjusted whole economy PMI for South Africa as an example, July 2021 data of 46.1 indicates that the economy is in a contractionary state as it has fallen below fifty. It is interesting to note the April 2021 expansionary high aligns with the end of the second wave and easing of lockdown restrictions in South Africa, and the subsequent fall aligns with the restrictions imposed due to the emergence of third-wave infections.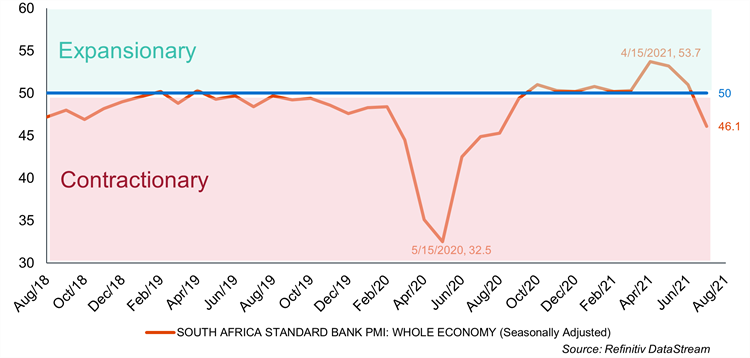 Pre-Pandemic
Prior to 2020, global PMIs scored in a far tighter range (46.9 to 55.5) compared to the more drastic post-pandemic data range experienced from 2020 onwards (13.80 to 68.70). Pandemic linked lockdowns and the subsequent impact on output, production, and supplies filtered into PMI surveys, as did the subsequent boom in activity as restrictions eased and production restarted when vaccine programs rolled out.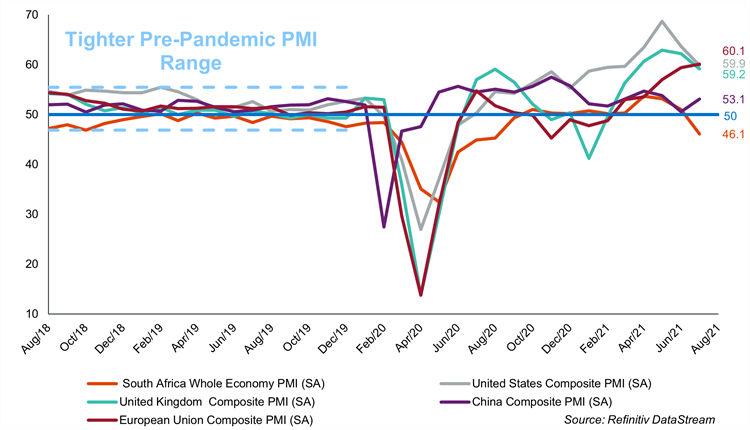 What Is the latest Data telling us?
In May 2021, based on data from IHS Markit, JP Morgan, global expansion peaked at a fifteen-year high, as many economies reduced restrictions due to vaccination progress and a slowdown in infection rates. Whilst July global growth remains expansionary (Manufacturing and Services PMI remain above fifty), it falls below the recent highs indicating a deceleration.
The current decrease is linked to the raw material, component supply shortage, and logistical delays which have pushed global supply delivery times to record highs and continue to contribute towards inflationary pressures. The divergence between developed and emerging markets recoveries continues to deepen as emerging markets, specifically Asian Pacific markets, where vaccine programs have progressed more slowly, have been harder hit by the delta variant and which continue to constrain the recovery efforts in both manufacturing and service sectors.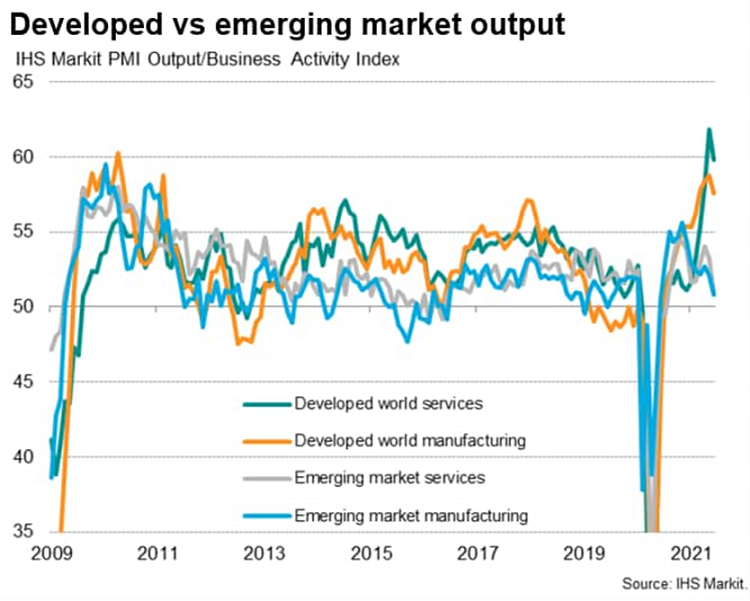 Overall, global PMI data from July, with a score above 50, indicates that the global economy continues to recover at a reduced rate due to the resurgence in COVID-19 cases from the more infectious delta variant and subsequent restrictions. As global vaccine programs progress, we watch to see if supply-side pressures and delta variant limitations ease.
Sources: IHS Markit, JP Morgan, and Refinitiv DataStream


---
This article was written exclusively for Finweek Magazine. It was published in the
10 September 2021 edition. You can access the original print coverage in English and in Afrikaans.

Make sure to subscribe to Finweek to ensure you don't miss out on insight articles
like these.