The NFB Ci Stable Fund has won the Raging Bull Certificate for Top Performance on the Basis of Risk-Adjusted Returns by a Domestic Collective Investment Scheme in the sub-category South African Multi-Asset Low-Equity over the five-year period to the end of December 2018.
This comes after winning a certificate in the same category, as well as a Raging Bull Award for Top Performance by a Domestic Collective Investment Scheme on a Risk-Adjusted Basis in the category Best South African Multi-Asset Equity Fund in both 2016 and 2017. Low-equity funds are restricted to investing no more than 40% in equities and are aimed at risk-averse investors.
NFB Asset Management's investment philosophy is based on three key beliefs: that asset allocation drives a significant proportion of overall investment returns; that markets are inefficient and swing between periods of over- and under-valuation; that NFB can exploit these circumstances to the benefit of investors.
"Investors in the NFB Ci Stable Fund will have benefited from significant exposure to funds such as the Coronation Strategic Income Fund and the Investec Diversified Income Fund, which returned 7.8% and 9.5% respectively for 2018 and 8.5% and 8.3% per annum for the last five years," Paul Marais, Managing Director of NFB Asset Management says.
Marais also says that investors would have gained from exposure to the Prescient Income Provider Fund, which was present in the NFB fund through most of the review period, only being replaced by the Sanlam Investment Management Active Income Fund at the end of 2018.
Also contributing to the NFB Ci Stable Fund's performance was the lower-than-peer average exposure to the South African equity market and foreign currencies.
"Although given the JSE's poor performance last year we would have liked to have even less exposure for our investors," Marais says. "Hindsight is a perfect science."
He says the rand wasn't very helpful, because even as it weakened against the dollar it was extremely volatile. This would have contributed to returns, but would also have increased the fund's risk profile, Marais says.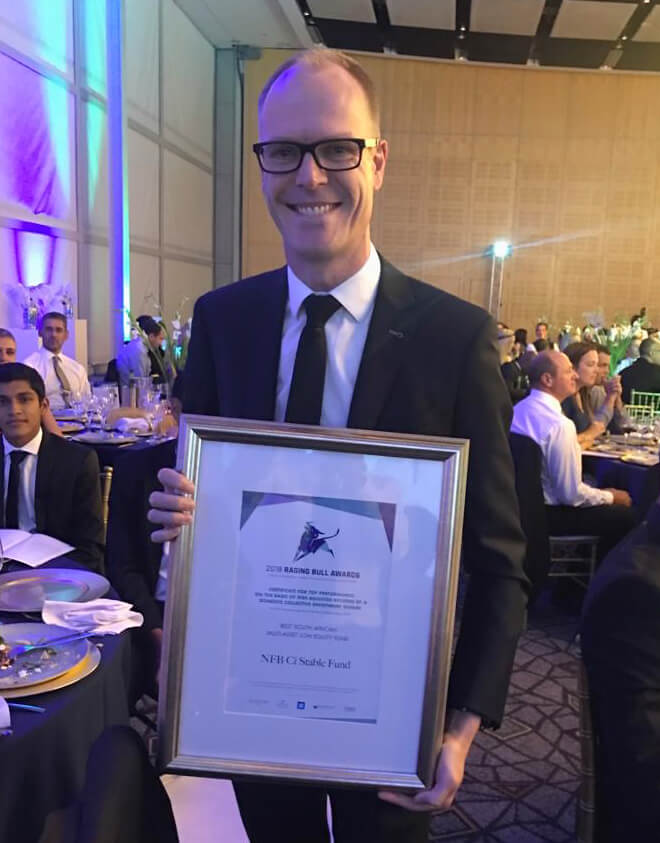 The fund had a moderately higher than average exposure to South African listed property for much of the review period. Marais says this exposure looked "rather smart" 18 months ago, but as the sector - particularly the Resilient stable of companies - came undone, "this decision has detracted from returns."
"While it's heartening to be recognised by the industry, we must remember that this a relative award: we were nominated because we've done better than our peers. We also need to remember that this a risk-adjusted performance award, again relative to our peers: so, we've done better at lower risk relative to our peers," says Marais.
He also says the first two or three years of the five-year review period were kinder to investors, but the last 18 months had been much more difficult. "Bordering on brutal in some instances," Marais says.
While NFB Asset Management does not believe in forecasting, Marais says the NFB Ci Stable Fund yields about 5% which should help to protect it from further downturns in the South African equity and property markets and from a significant strengthening in the rand.
About NFB Asset Management
Launched in 2001, NFB Asset Management is one of South Africa's leading independent providers of local and offshore single manager and multi-manager funds.
NFB Asset Management is at the forefront of the discerning investor landscape. Each investment decision we make is guided by intellectual insight, considered research and rigorous due diligence processes. Championed by a group of savvy financial professionals, we aim to help generate and preserve wealth to create long-term investment success using current market opportunities.
With NFB Asset Management, investors benefit from extensive resources, expertise and experience across the wider NVest Financial Holdings Group.