With President Cyril Ramaphosa's lockdown extension address (watch it here; read it here) to the Nation shortly after 8pm last week Thursday, we've naturally had to retitle this weekly mailer. We fully expect to be required to do so at least once more as it's highly unlikely that South Africa moves from completely locked down to completely not. Most likely is a gradual relaxation of restrictions as the extent and impact of COVID-19 is assessed. With nearly 2 million confirmed positive Coronavirus cases, almost 120,000 deaths and thirteen countries with more than 25,000 positive cases each (Belgium, the Netherlands, Switzerland and Canada being the most recent additions to this ignominious list since I last wrote to you); the world is still very much in the throes of this pandemic. A deceleration in the rate of daily deaths in Italy and Spain and of daily ICU admissions in places like New York does, though, provide some measure of hope; though we need to keep a watchful eye on reinfection spikes as is currently being experienced in China and South Korea.
I've asked our NFB AM team for a brief note on the performance of their portfolios for the year-to-date, recent trading activity and whether there are any trades they're considering. Their reply follows. Should you wish for more detailed information and/or should you wish to direct a follow-up question/comment to them, you are welcome to do so here.
NFB Asset Management, A Brief Note

Whilst performance assessment over 1 or even 3 months is fraught with risk, we have taken a keen interest in how our portfolios have performed during 2020; particularly relatively to their peers. In all instances while portfolios are down in absolute terms and investors will understandably be disappointed, performance has been in line with the relevant sector averages and the relevant major market indices. In addition and in conjunction with Morningstar, we have analysed the performance of our portfolios in other global pandemic episodes (SARS, Zika, and the like) which we are happy to share with investors. In almost all historical pandemic episodes, our portfolios perform better than their sector averages. In terms of recent trading activity: we have increased South African equity exposure and have lightly trimmed non-ZAR exposure at levels above 17 to the dollar. The Mauritian-based NFB AM International Investment Committee has increased global equity exposure for the Global Balanced Fund of Funds. Future trades most likely include increasing exposure to South African nominal government bonds; particularly for the NFB Stable Fund. If a second round of equity selling occurs, both Committees are prepared to increase equity exposure further.


This just in: the Monetary Policy Committee of the South African Reserve Bank has today cut the repurchase rate by another 100 basis points from 5.25% to 4.25%. This follows last month's cut of the same size and January's cut of 25 basis points; taking 35% off the central rate of interest in roughly 3 months. Today's announcement follows yesterday's agreement between OPEC+ and G20 members to cut global oil supply by 9.7 million barrels a day, which was in the balance toward the back-end of last week; with Mexico being the most resistant to a deal. Naturally enough, oil prices are buoyant on the back of this but still down meaningfully (circa 40% to 50%) since Saudi Arabia and Russia's falling out roughly a month ago.


Oil Prices, Daily, Last Year, USD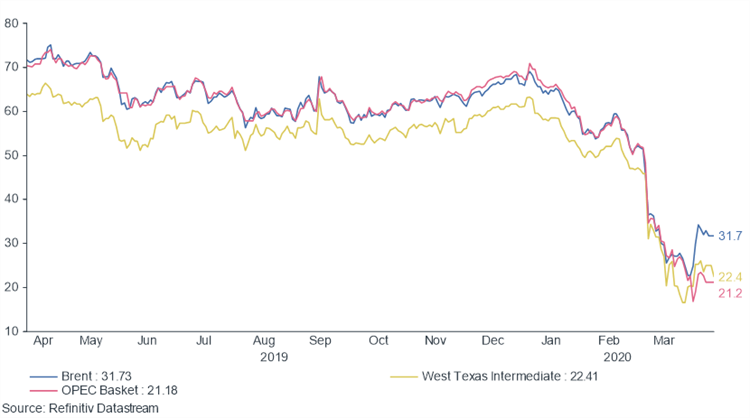 Oil Prices, Daily, Last Year, ZAR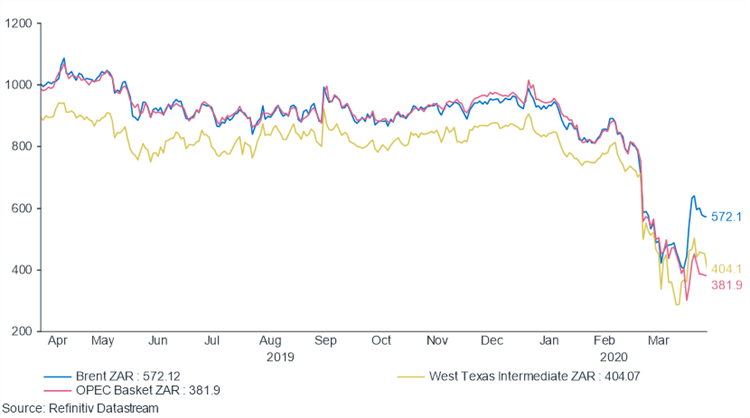 Unfortunately, with tremendous recent weakness in the rand, South Africans are unlikely to see much more in the way of fuel price decreases beyond that which we saw on the first Wednesday this month and, perhaps, another cut on the first Wednesday of May. The OPEC+ deal more than helping to offset last week's news that US initial jobless claims set another record (6.6m) for the third week in a row; now totaling almost 17m across the last three weeks. An oil price deal, additional stimulus measures (see following paragraph) and an expectation, which we think is potentially misplaced given that it took two full years to properly assess the Spanish flu, of a swift return to business as usual, saw equity markets rally strongly with the US having its best week in 45 years! The rebound in South Africa, however, has largely been contained to the basic materials sector which is now down about 15% over the last year, some of which is attributable to the gold price rallying back to USD 1,800 an ounce, versus the industrial and financial sectors which are down 40%.
JSE Sectors, Last Year, ZAR, Rebased to 100


Global policy response from both Central Banks and national Treasuries remains aggressive, brief highlights of which include, amongst others: (1) an additional USD 250 billion in relief for US small businesses making its way through the Senate following the initial USD 2 trillion stimulus package announced last month, (2) the US Federal Reserve initiating a USD 2.3 trillion lending program last week, (3) the European Union announcing EUR 500 billion in stimulus measures, including direct wage subsidies, on Thursday last week and (4) Japan's Prime Minister Shinzo Abe announcing a JPY 108 trillion suite of measures early last week and declaring a national state of emergency at roughly the same time. Forthcoming measures for the US include a USD 2 trillion infrastructure development plan. Expect more such announcements from right across the globe throughout the next two or three weeks. Equally, expect the entirely valid, and perhaps more critical in the long-term, counter argument to emerge of how exactly all these stimulus measures are going to be paid for, which should make for a lively forthcoming week of claim and counterclaim, market reaction and overreaction.
Lastly, whilst somewhat bleak, this wonderful photo essay of empty cities from Bloomberg; demonstrates that the world is still a beautiful place; that there is still light in amongst all this darkness. Bonus features: both Visual Capitalist and our contemporaries at Credo (note that it is dated 27 March 2020) have done some work on the mathematics of coronavirus which you may find instructive. We've also updated our weekly chart book which can be found here.
Stay safe. Stay positive. Flatten the curve.
---

Market Data
| Asset Class | Last Week | Last Month | Last Year | Last 3 Years |
| --- | --- | --- | --- | --- |
| Local Cash | 0.11% | 0.54% | 11.13% | 7.29% |
| Local Bonds | 0.00% | -11.66% | -6.78% | 4.66% |
| Local Property | 19.47% | -27.76% | -42.18% | -18.85% |
| Local Equity | 7.65% | -2.08% | -14.97% | -0.14% |
| Global Property | 18.98% | -14.20% | -17.19% | -0.82% |
| Global Equity | 10.51% | -4.09% | -7.19% | 4.23% |
| USDZAR | -4.97% | 11.13% | 28.46% | 8.70% |

Helpful Resources

Please take the following into account:
Wherever possible, total return indices have been used. These include the effects of dividends, interest and coupon payments in addition to price movements. Please take data presented as, generally, inclusive of price and income effects.
Performance and other market data excludes the effect of income, capital gains and dividend withholding taxes as well as excluding advice, administration and asset management costs. Please take data presented as exclusive of tax and cost effects.
Data is based on the previous Friday's closing prices but as the situation is fluid the commentary may or may not extend beyond Friday's close. Additionally, Friday's close is intended to include American markets so this email can only be compiled and distributed on the following Monday.
Collective investment schemes and other similar products performance information is based on data provided by Morningstar, which is signed off the first week of each month. In general, we will refrain from covering this until sign-off is obtained.
NFB Asset Management publishes a monthly newsletter called The Rationalist. For as long as these weekly emails are being sent we have elected not to publish The Rationalist. Expect the monthly NFB AM schedule to resume once the lockdown is lifted.